Clients' requirements – women
Daisy is desperate to escape
Daisy P, age 22, 5' 5" is living at home with her mother in Kensington, London in 1939. She is slender, blonde and quite pretty. She has no qualifications and no job, so depends on "pin money" from her mother, who since her husband's death from tuberculosis, wants her daughter to stay with her. Daisy feels smothered and is desperate to escape. She asks the Marriage Bureau to find her a man "Preferably with a title, who has travelled and likes sport. I would be willing to go abroad."
Low-paid Edith is enigmatic
Edith M works as a stenographer, earning £3 per week. She is a highly organised, precise woman of 41 and a half – she insists on the "half". She will meet a man of any age from 40 up. Her priority is that he must have sufficient income for two to live comfortably and a bit over. She does not explain a comment to the interviewer, who notes that Miss M would prefer his Mother and Grandmother to be dead.
Why is Una "hell"?
The interviewer writes on Una R's card the single comment: Hell. Una is a widow of 42 who lives very modestly on a private income of £5 per week in lodgings in North London. She is probably not particularly good-looking as the interviewer notes She doesn't mind how ugly the man is. She'd like a keen business man with a good position.
At last Maud is free to marry
Maud J's father was a boot and shoe manufacturer whose wife died, leaving him to bring up Maud. When she grew up she in turn looked after him – he was a very lonely widower. In 1942 he died, and Maud, now 47, is free to marry. She wants someone interested in business of any description, or a lonely widower. My father left me £2,000, I would be prepared to let any prospective husband have £1,000. 
Bored Maisie spoils her chances
Perhaps it is the boredom of working in a munitions factory which causes Maisie H to seek a more interesting life, with a husband. She is 29 with a longing to travel, though she knows she will not be able to do so until the War is over. She will meet men between 30 and 50 as long as they are taller than her – at 5' 9" she is unusually tall. She meets a few, until the interviewer writes on her card: Found in bed with the Marquis.
Elsie's son needs a father
Elsie B lives in a small Yorkshire village where many frown on her as she is unmarried but has a ten-year-old son. The father is French and far away, so fortunately her parents support her. The interviewer points out that some men are not prepared to take on a child. Elsie is 39 but in order to maximise her chances she will meet a man up to the age of 56. She thinks herself good-looking and writes I can send photographs of myself and son. My teeth are my own.
Gladys is stuck in Ceylon
War broke out soon after Gladys H arrived in Ceylon (Sri Lanka) to take up a teaching job. She is stuck there until the end of the war. There are a lot of British men, but she would rather find one through the Marriage Bureau, about which she has read a lot in the press. She is 35, old to become a mother, but she would like to meet a man who wants to have children. He must be reliable, broad-minded, cheery – a "pukka sahib" – and living in Ceylon.
Clients' requirements – men
Alfred is a snob
Captain Alfred J's father is Rector of a country parish. His son is in the Regular Army and rather disdains his parents' rustic background. He is 31 and stipulates She must have natural hair, not brown eyes, easy to look at, spinster, MUST NOT BE A NURSE, not an only child, neat and tidy, of my own class or better still, out of a higher drawer. The interviewer notes: What he really wants is someone with a handle to her name as he is rather a snob.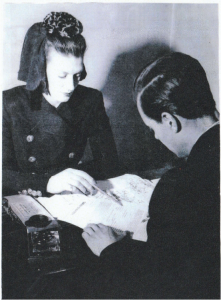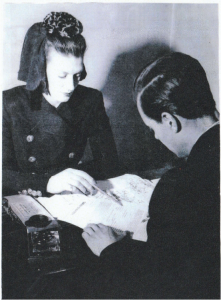 Walter gets what he wants
In spite of being blind Walter P works as a physiotherapist and, he tells the interviewer, I lead a normal active life with a keen interest in the cinema and current affairs. He is 50, with a daughter of 16. His wife was killed in a bombing raid. He wants to marry a girl in her late twenties and have another child. The interviewer insists that he extend his age range to 35; and in 1947 he marries the fifth young woman to whom he is introduced. She is 37.
Frank fled persecution
Frank N is highly paid as a manager in a large factory making agricultural machinery – vital to the war effort, so although he is only 34 he is not called up to fight. He was born Russian but his family left to escape persecution of Jews. He is very gregarious, and wants a wife who is attractive, must be a good conversationalist, and have the ability to mix with my very many friends. Her past is her own, I am not going to ask any questions.
Alexander wants to marry money
Alexander S lives in a large country house in Wales, the 30-year-old son of wealthy parents. The interviewer questions him closely as he seems to have no source of income, but wants to marry a girl aged 17-27 who is very wealthy or devastatingly beautiful. Miss Mayfair, Miss Beautiful, Miss Rich or Miss Heaven. The bureau drops him after discovering that he tried to borrow money from Miss W.
A bohemian or a baker for Norman
At 41 Norman R was too old to be called up for active service, but served in Intelligence. His wife left him for an American Colonel. After the War, being a solicitor, he works for the War Crimes Group; but next year – 1948 – he will leave the Army and have to find a new job. He wants to find either a sophisticated bohemian sort preferably with some secretarial experience in literary work, or else a country girl, good at home baking. Able to ride and willing to go to remote places.
Wilfred's wife must pay for half the house
Since his wife divorced him, claiming adultery (trumped up, he tells the interviewer) Wilfred B, a retired naval Commander of 64, is living in his London club. A new wife must be financially self-supporting, as he wants to buy a house in his native Ireland, but I could only produce half the cost of purchase. My daughter of 18 is living with her mother and I am very anxious to have a home where she could spend part of the time. I have a horror of suburbia or arty women, and I don't play bridge.
The war left Jack deaf
Jack B left his council school at 14, was deafened by a bomb but in 1941 is working as an articled clerk. Aged 22 he earns £27 10s per month. He would like his wife to be a working class girl, capable of efficiently running a home, cooking, sewing etc, willing to put up with deafness, quiet, non-smoker, only drinking on social occasions. To the interviewer's surprise he pays the registration fee by cheque (most clients pay cash). But he meets no prospective wives as the interviewer files his card away after marking it cheque bounced.